Positive Christianity 20th Anniversary Celebration Cruise
VERY AFFORDABLE - November 10-17, 2019
Dear friend, this is a major announcement - it will change our policy going
forward for our 20th Anniversary Spiritual Retreat Cruise.
A dear lady, who has been on many of our spiritual retreat cruises,
credits the experience for changing her life.
Due to mobility issues she cannot attend currently but wishes to give the experience to others.
She asked how many remaining slots we have unsold -
she is sponsoring the program donation for ALL remaining people not yet booked.
She requests to remain anonymous but deserves our great thanks.
You can now call direct to our travel agent you are now
cleared to book without having to pay for your program fees first:
Call Direct to Book - Allure Travel Group Journeys 818.553.3200
7-nights BEGINNING AT

JUST $499

per person + tax and fees
We have 7 categories of cabins from inside to deluxe balcony
ranging in price from $499 to $809 per person.
Each person, in addition, has taxes and fees of $145.52 no matter what cabin category.
Cabins are double occupancy.
We offer this cruise for less money than our original in 2003
which is remarkable!
Celebrating TWENTY YEARS of service, we recreate the original
grand spiritual retreat cruise within easy reach of all.
Carnival Glory - Leaving New Orleans Sunday, November 10, 2019.
Sailing to Roatan, Belize, Cozumel.
Returning to New Orleans Sunday, November 17, 2019
20th Anniversary PROGRAM
3 FULL Mornings at sea.

First Morning Program Theme: Captain of My Own Soul

Second Morning Program Theme: Spiritual Mastery

Third Morning Program Theme: A Sea Change

Rev. Chenoweth will teach advanced prayer.

How to get answers to prayer.

Most people think they know how to pray – they don't.
And of course, many other top-notch wonderful speakers.
A souvenir gift bag will be given to each program participant.
Program donations (non-refundable) provide for our meeting space,
donations to speakers, refreshments, gifts, and supplies.
Call Direct to Book - Allure Travel Group Journeys 818.553.3200
Your cabin choice can be easily secured online with just a
$250 deposit - per person ($75 non-refundable.)
Final payment will not be due until August 15, 2019.

You must book within our group.

Bookings outside our group are not allowed into our program – Carnivals' rules.
Space is limited. Cabin categories will sell out quickly.
No additional cabins can be added later because of program space limitation.
Historically we have had total sellout by February or March.
Carnival also reserves the right to recall all unsold cabins,
not under full deposit with full names at any time.
A valid passport is required ; passports must expire at least 6 months past return date.
At this time since this is a closed loop cruise, passengers may bring a
certified copy of a birth certificate and a government issued photo ID.
However, this is not encouraged in case for some reason the
passenger needs to get off the ship in one of the ports to fly home.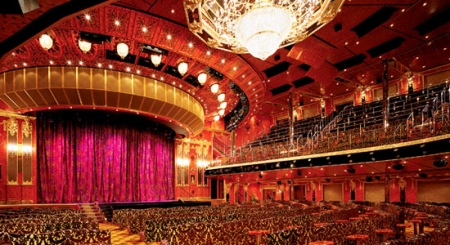 Evening production shows in the grand theater - INCLUDED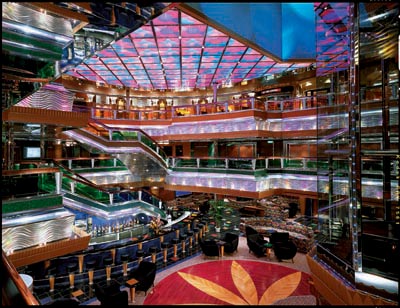 Atrium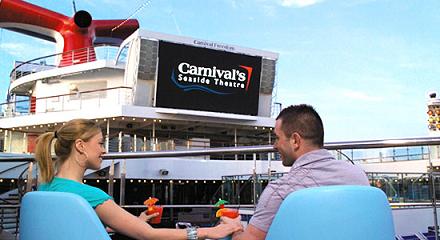 Outdoor Movie Theater
High-rated (4 ½ star) Carnival Glory is an immense floating resort with large scale amenities.
Though the kids have their own areas and the adults can visit the adults-only
Serenity retreat, the biggest entertainment venues are fun for the entire family.
There's a variety of stand-up comedians at the Punchliner Comedy Club.
You can also check out the open-air bars, stage shows at
Playlist Productions and two huge WaterWorks slides.
After the sun goes down, grab a bite to eat at one of the
ship's many restaurants and enjoy some night entertainment.
Movies under the stars, nightclubs and the casino will all keep you going through the night.
You can even satisfy those late-night cravings at the
24-hour pizzeria or order in with 24-hour complimentary room service.
The staterooms feature high thread count linens, custom pillows, fine cotton towels,
terry cloth robes, soft carpeting, indirect lighting and plenty of closet space.
No matter where you are on Carnival Glory, you'll have a vibrant time at sea.
Waterslides to swimming pool – I dare ya!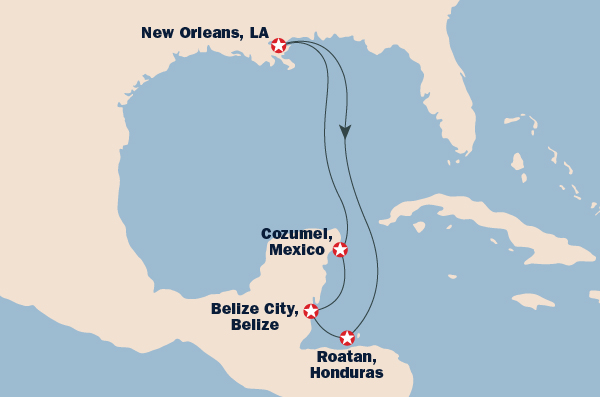 New Orleans
While there are many sectors within the city, the French Quarter is the most visited area,
and is known for its delicious Creole cuisine and toe-tapping street musicians.
Grab a beignet at Café du Monde, or head out to tour the
mansions that can be seen over the greenery of the Garden District.
The wealth of culture and art found around the
Crescent City provide something for everyone to love.
Whether you are having a good time down Bourbon Street or looking out for ghosts at
St. Louis Cemetery No. 1, a visit to New Orleans is
guaranteed to leave you with memories you won't forget. 
Roatan
Floating 30 miles off the Caribbean coastline of Honduras, in the Bay Islands,
Roatan is 29 miles long and two miles wide.
Reefs surrounding the islands are teeming with marine life and
offer some fantastic scuba-diving and snorkeling opportunities.
Idyllic beaches also lure visitors. 
Belize
The longest barrier reef in the Western Hemisphere fringes Belize City,
which makes snorkeling and scuba diving extremely popular here.
Recreational pursuits are popular, ranging from inner-tube trips down a
jungle river to zip-line tours amid the treetops of a rain forest.
Other excursions departing from the Central American city visit
Mayan ruins, wildlife preserves and botanical gardens.
Or, spend the day at a pristine beach or browsing the delights of Belize City,
including its marketplace, cathedrals and restored colonial mansions.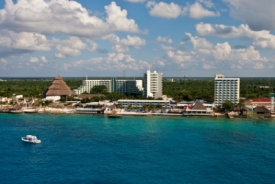 Cozumel
Just off the coast of the Yucatan Peninsula sits the island of
Cozumel, draped in lush, tropical vegetation.
The reefs that fringe the island beckon divers and snorkelers.
The most popular shore excursions include snorkeling on famous
Palancar Reef or a beginner's dive at Paraiso Reef.
A land tour will provide a nice taste of Mexico --
Cozumel has done much to retain its Mexican character.
Tourists also may want to take a short trip inland to
visit the great pyramids and temples of the Mayas. 
Call Direct to Book - Allure Travel Group Journeys 818.553.3200